President Uhuru Kenyatta when he met over 7,000 leaders from Mt kenya at Sagana State Lodge at the height of the BBI campaigns last year [File, Standard]
As Mt Kenya region waits with bated breath for explanations from its kingpin – Uhuru Kenyatta – on what went wrong in his political marriage with Deputy President William Ruto, the big question will be whether the region will read from the same political script as the President.
Uhuru is set to meet about 3,000 delegates from across 10 Mt Kenya to chart the political future of the region which was his bedrock but which leans towards Ruto's who is seeking to succeed Uhuru in August.
A casual examination of the list of invited guests indicates that only those who support the government have been invited, from the clergy to youth leaders to elected representatives. This means it will be improbable that the meeting will call for a truce between Uhuru and his critics in the region.
Instructively, Deputy President William Ruto's allies from the mountain had not received invitations by last evening. Some described the meeting as an exercise in futility.

However, those who support the government believe that Ruto's supporters will have to contend with a new political euphoria that Uhuru is expected to ignite with his return home. The President's supporters said they expect that those who will not be part of the new wave will be rendered politically irrelevant by August.
To Ruto's allies, Uhuru is a lame-duck President who will have little or no say in succession politics. His only option, they believe, is to retire honourably and avoid a repeat of 2002 scenario when the then President Daniel arap Moi endorsed Uhuru only for him to lose to Mwai Kibaki, an opposition politician.
Murang'a Senator Irungu Kang'ata believes this year has many similarities with 2002 when Moi endorsed Uhuru and initiated revival plans to rebrand Kanu. Similar effort is being used to reinvigorate Jubilee, which shares Kanu's red party colours and whose leader vied for the presidency on a Kanu ticket.
"History repeats itself first as a tragedy second as a farce," wrote Kang'a on his Twitter Handle. "A lot of similarities between Kanu 2022 and Jubilee 2022; both used red as a theme colour and both hoisted the propject. The project was some dynasty and both saw red".
However, Nyeri Town MP Ngunjiri Wambugu dismissed Kang'ata's assertion, saying Moi managed to convince the Rift Valley as a region to vote for Uhuru as a bloc.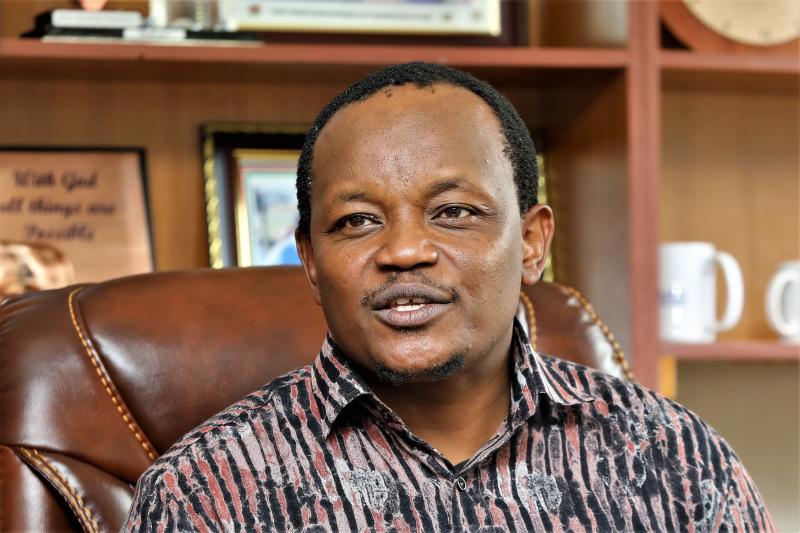 Nyeri Town Mp Ngunjiri Wambugu addressing the media at Nyeri House, February 22, 2022, where he said Sagana 3 meeting is likely to shape Central regions politics. [Mose Sammy, Standard]
"The big question is not whether Uhuru will deliver the whole country to Raila but whether he will deliver the region to Raila and that is what will be answered after tomorrow's meeting," Wambugu said.
He also dismissed the Ruto camp's stand that the President should not meddle in succession politics. According to him, it would be Uhuru's biggest undoing to adopt a don't care attitude on who will be left in charge of the country after steering its leadership for ten years.
"It would very irresponsible for Uhuru if he was to just exit the Presidency without guiding the region on who is best suited to succeed him in the upcoming August polls," Wambugu said.
And Gatanga MP Nduati Ngugi said the President will for the first time share details explaining his working relationship with Ruto and how Ruto frustrated his agenda for the country. This, according to Ngugi, will tilt the ground in Uhuru's favour.
"The President has avoided some political utterances against his Deputy waiting for the opportune time which is here with us. He will shed light on why Ruto is bad for the country, why he has not been assigning Ruto despite him being his Deputy and consequently why he ordered him to stop launching projects," Ngugi told The Standard.
Uhuru is also expected to receive defectors, who are likely to include Kirinyaga Woman Representative Wangui Ngirici and Githunguri lawmaker Kago Wa Lydia who have since ditched Ruto's camp.
Jubilee Secretary-General Raphael Tuju has been tasked to woo back leaders elected on the Jubilee Party ticket and who defected to Ruto's camp.
"I'm in communication with die-hards who want to come back home. Jubilee will be the party to beat in Mt Kenya region and will sponsor many elected leaders to Parliament," Tuju said in a text message.
NATIONAL
By Winfrey Owino
NATIONAL
By Brian Okoth
NATIONAL
By Brian Okoth
RIFT VALLEY
By Kennedy Gachuhi
POLITICS
By Moses Nyamori
NATIONAL
By Stephanie Wangari
By Josphat Thiong'o | 7 hours ago
By Biketi Kikechi | 9 hours ago
By Elvince Joshua | 9 hours ago
By Standard Team | 16 hours ago
Subscribe to our newsletter and stay updated on the latest developments and special offers!
join @standardjobs telegram channel
Pick your favourite topics below for a tailor made homepage just for you