DP William Ruto's visit to the White House has kicked up a storm. [DPPS]
Ababu Namwamba, the Head of International Relations of Deputy President William Ruto's campaign secretariat, finds it laughable that people doubt that they visited the White House. He chuckles as soon as I ask about his White House experience.
"I'm laughing at how petty people can be," he explains the snicker over a voice call on WhatsApp. He coughs, almost choking. In the background, the clatter of crockery almost drowns the audible chatter going on. "We would be crazy to claim that we were there if we weren't."
Namwamba was miles away in the US, and yesterday he and the DP's delegation arrived in the UK.

Back home, Ruto's visit to the White House has kicked up a storm. Some Kenyans on Twitter have doubted that the DP visited the place, some saying he went to the nearby Eisenhower building instead.
The Eisenhower building, according to the White House's official website, "houses a majority of offices for White House staff," including the Executive Office of the vice-president. It is located next to the White House's West Wing and is listed as falling within the White House's premises.
Namwamba says that is not his first time at White House, having been there as a student. "I am very familiar with the White House complex," he says. There, he adds, the DP met officials from the National Security Council (NSC) as his communication team had indicated previously, and discussed "substantive issues".
He says the closed-door White House meeting lasted more than two hours, with Ruto presenting a three-pronged agenda. Their main focus, he says, was to amplify the significance of the strategic role Kenya plays in the region. "Kenya is a candle for democracy in the region. It is a fulcrum for handling issues on security and stability of the region," Namwamba says.
Equally important, he says, was the August 9 elections. Critics have accused Ruto of peddling fear with claims that there are plans to rig the election. While in the US, the DP said democracy would be on the ballot.
Through State House spokesperson Kanze Dena, President Uhuru Kenyatta on Friday accused the DP of soiling the country's name.
"Ruto has been a fantastic ambassador. He has spoken well for Kenya. But he has called out the bad manners brought about by people who try to use extra-constitutional means of settling election disputes," Namwamba says.
Ruto has also been accused of seeking help from the US, a country with little input in Kenya's polls. "We did not come to the US to seek help; we came to ask a friend not to stand on the sidelines at a time democracy is under threat worldwide… friends of Kenya want to hear that Kenya will be stable after elections," he says.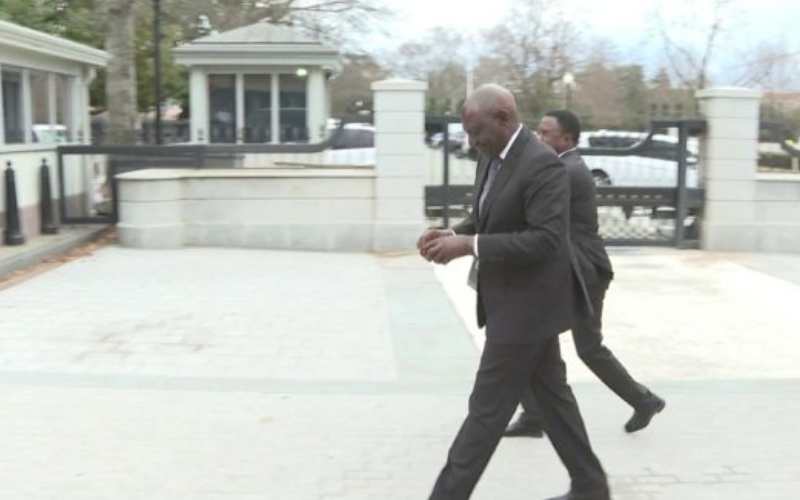 "After the 2007/2008 violence, Justice Johann Kriegler identified the conditions for holding free and fair elections. Our discussions with the US was that we are interested in seeing the conditions met so that everyone walks away feeling the elections were free and fair."
Ruto's irreducible minimums for the elections, he adds, are the non-interference of State agencies, proper facilitation of the electoral body and zero violence. Namwamba says that just as the US State Department for African Affairs had in the first meeting, the NSC had assured that they would not take sides in the August polls.
"We want our competitors to commit to our international friends that they will accept the results of a free and fair process."
The third pillar, Namwamba says, is Kenya's strategic partnership with the US. In a meeting the DP team says lasted four hours with State Department of African Affairs, Ruto made presentations on the "pillars that define the Kenya-US partnership."
"We discussed economic prosperity, defence cooperation, governance and civilian security, multilateral and regional issues as well as health cooperation. We assured our friends that our relationship would improve when we form the next government," Namwamba summarised on the meetings with Deputy Secretary of State for African Affairs Molly Phee on Wednesday and the NSC on Friday.
He terms the meetings a success, given the time and attention he says US officials accorded them. "We did not just come here to meet our friends. We also met Kenyans in the diaspora, promising to be more responsive to the issues affecting them."
NATIONAL
By Winfrey Owino
NATIONAL
By Brian Okoth
NATIONAL
By Brian Okoth
RIFT VALLEY
By Kennedy Gachuhi
POLITICS
By Moses Nyamori
NATIONAL
By Stephanie Wangari
By Josphat Thiong'o | 3 hours ago
By Biketi Kikechi | 5 hours ago
By Elvince Joshua | 5 hours ago
By Standard Team | 12 hours ago
Subscribe to our newsletter and stay updated on the latest developments and special offers!
join @standardjobs telegram channel
Pick your favourite topics below for a tailor made homepage just for you